The new retail technology offers customers an engaging, effective and memorable experience from the moment they step into Almosafer retail branches.
The unified and integrated travel booking experience gives customers the option of seamlessly booking multiple products on one platform.
Personalised in store experiences to include top destination City Guides to provide customers with travel inspiration and recommendations based on their travel preferences.
Almosafer, the leading omni-channel travel brand in Saudi Arabia, has successfully deployed a fully-integrated travel booking retail technology at its new interactive stores in key cities across KSA, emphasising its commitment to better serve Saudi travellers through delivering a highly personalised, tailored customer journey even before they step into the branch.
Featuring an interactive in-store queuing management system, travel inspiration through dedicated city guides, digital video walls and screens showcasing the latest travel packages, a centralised database for customers and their booking history, the retail branches are perfectly modelled to optimise operations and seamlessly integrate different stages of each customer episode, saving precious time off the journey.
With the help of industry-experts such as Accenture, Salesforce and Appspace, the newly rolled-out branch experience aims to change how travel is booked in the Kingdom. The newly integrated technology aims to ease the waiting time of the customers at the branches as well as engage them by showcasing relevant travel inspiration and offering recommendations based on their travel preferences.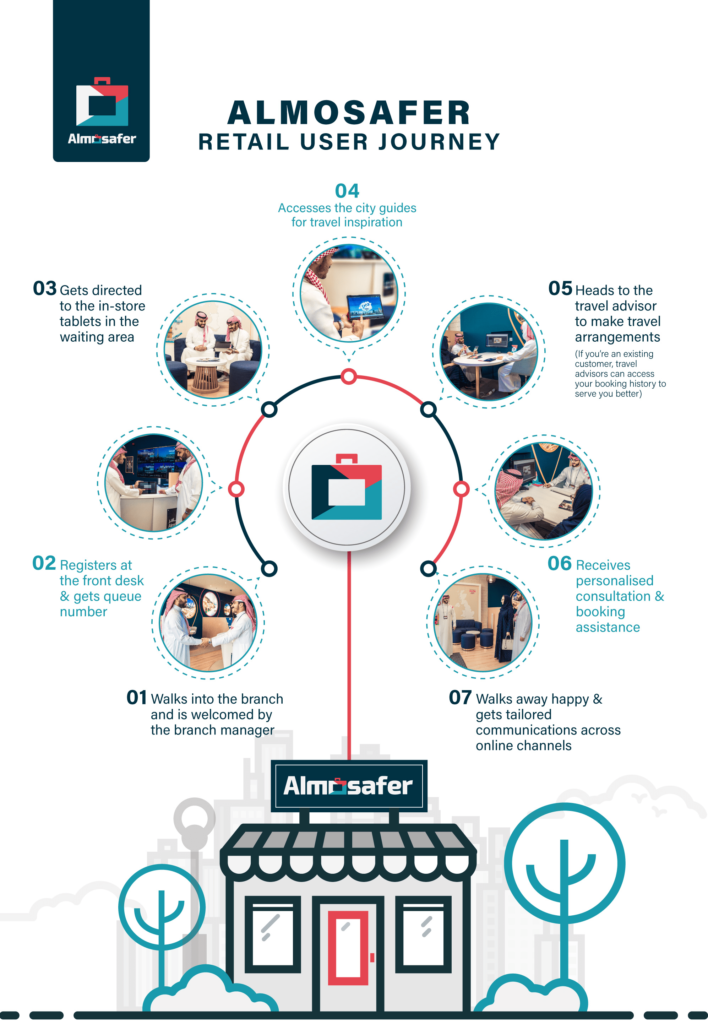 Almosafer's retail technology allows it to create personalised profiles for each customer through their previous online, offline or call centre travel booking history, even before they visit the retail branches. As for the in-store interactive journey, customers are registered either at the front desk or at a kiosk by the branch manager or one of the dedicated travel advisors. At the time of registration, the screen at the kiosk will prompt the customer to select their travel choice and reason for coming into the branch (flights, hotels, holidays or other services). Customers in queue can access customised city guides via in-store tablets and browse rich interactive content on top destinations, videos and even filter destinations based on their travel preferences (e.g. family holiday, honeymoon, shopping trip, etc.).

With the help of the queuing management system (QMS) and inspirational content journey, the travel advisors in the branches can access the customer's browsing history and understand what the customer is looking for, to then give personalised travel advice and recommendations, curate tailored and seamless travel experiences based on their profiles, and make their post-visit communication more personalised through tailored offers and more inspirational content that's relevant to them. 

"Customers' expectations of real-time, friction-less and personalised service are on the rise. Almosafer is accelerating the pace of innovation in the tourism sector by incorporating sophisticated retail technology to customers' travel booking journey. We have partnered with the region's leading industry players such as Accenture, Salesforce and Appspace to unify various aspects of user experience and to reinforce the ability of our retail channels. The enhanced seamless booking experience strives to drive internal efficiency, customer centricity and deliver exceptional ROI. Our aim is to inspire and excite our customers in branch with rich interactive content while letting our expert travel advisors take the effort out of planning the perfect trip".

Muzzammil Ahussain, EVP Almosafer
"Creating an engaging in-store experience for travel booking customers was one of the main objectives we are trying to achieve with Almosafer." Mohamed Sofiane Baffoun, who leads Accenture's Travel industry in the Middle East.

"Using digital signages, queue management systems, and personalization tools, Almosafer can engage with customers with inspirational content about their destination while they wait in the queue and create a unique set of experiences for each customer. Through this partnership, we have enabled Almosafer to transform its digital channels and maximizes its overall performance, increase efficiency and reduce costs, while leading the way in innovation to create a more personalized customer journey".
Rich content is created, managed and distributed across the in-store tablets and large-format video walls via a content management system called Appspace, which allows for the Almosafer content team to schedule, allocate and hyper-localize content across branches, down to tailoring content across every single device. Based on branch location, regional preferences and customer interaction with rich content at the respective branch, the displayed inspirational journey is then customized.

"One of the most important pieces of Almosafer's digital retail journey was the platform capability to hold content coming from multiple environments with the likes of Salesforce & Queueing systems. Appspace facilitated to provide a smooth transition from one environment to the other. When a customer walks into the stores, the experience for him is seamless and he witnesses one unified platform targeting all his specific needs despite coming from multiple technologies. Appspace's unified platform experience helps to enrich the customer journey and provide travel inspiration."

Mohamed Emam Saber, Regional Director Middle East & Africa, Appspace
Additionally, Almosafer has also built its own one-stop agent platform, Unify, an integration solution to seamlessly book multiple products on one platform. This technology, which is fully integrated with Salesforce, a leading CRM tool, enables travel advisors to access an extensive range of hotel and airline options (450 airlines, over 1 million hotels) as well as consolidate customer interactions across the customer lifecycle. Travel advisors can now make various travel arrangements e.g. flights, hotel, transportation, international driver's license, visa, etc. for the same customer at the same time. 

"Our user-friendly platform helps Almosafer streamline all customer interactions across various touch-points and channels including phone, email, mobile, social and in-store. Almosafer is driving digital transformation as the 360-degree customer view enables travel advisors to have a unified view of every customer interaction and assures delivery of consistent customer experience throughout the travel journey."


Thierry Nicault, Senior Regional Vice-President at Salesforce
The human element plays a major factor in the success of Almosafer retail technology roll-out across its branches in KSA. To ensure customers are receiving a more flexible and personalised booking experience, Almosafer is developing and certifying young Saudi nationals through Almosafer Academy- bespoke training & employment programme the company utilises to hire and train the right talent – to become part of the brand's integrated customer journey. These experienced travel advisors are well informed about global destinations and can make recommendations based on customers' preferences making their in-store interactive journey more enjoyable. 
Bringing this novel retail technology to Saudi Arabia for the first time is a key priority for Almosafer as part of its commitment to innovate the travel booking customer journey. The brand has dedicated major investments to design and implement this new integrated in-store customer experience with the aim to offer a more personalised consultation by consolidating information on Saudi travellers' preferences, overall customer behaviour and real-time insights on travel trends. In future, the experience will be enhanced further with additional features such as virtual reality and appointment scheduling.
Almosafer retail branches are welcoming customers in Riyadh, Makkah, Taif and Jeddah, with more to open in various cities including Dammam, Kharj, Khobar, Jubail, Al Ahsa, Khafji, Madinah, Khamis Mushait, Abha, Bahah, Bishah, Jizan, Najaran, Tabuk, Aljouf, Unaizah, Buridah, ArRass, Hail, Yanbu and Rabig.